Harborview CEO Paul Hayes announces retirement
He led the hospital's efforts toward equity, diversity and inclusion, as well as an innovative peace project to counter racial tensions.
Media Contact: Susan Gregg - 206.390.3226, sghanson@uw.edu

---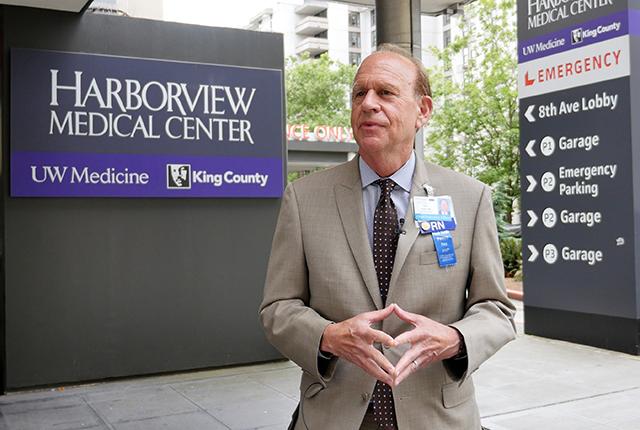 UW Medicine announced today, Nov. 2, 2020, that Paul Hayes, RN, CEO of Harborview Medical Center, will retire from his position on Dec. 4.
Sommer Kleweno-Walley, senior associate administrator at Harborview, will serve as interim CEO while a formal search is conducted. In keeping with the University of Washington's management agreement with King County, the CEO search will be jointly conducted by UW Medicine and the Harborview Board of Trustees.
"Paul's unwavering commitment to the mission of Harborview has helped elevate the organization to the prominence we see today. His relentless focus on improving the patient experience, hospital operations and the overall financial stability is inspiring," said Lisa Brandenburg, president, UW Medicine Hospitals & Clinics. "We are forever grateful for his years of service and dedication to Harborview and our region."
Under Hayes' leadership, Harborview launched several innovative initiatives, including the bed-readiness program, expansion of primary care through a unique partnership with the Downtown Emergency Service Center at Hobson Place, and most recently, mobile COVID-19 testing for vulnerable individuals. Hayes pioneered Harborview's industry-leading efforts toward equity, diversity and inclusion, and led an innovative peace project to counter racial and religious tensions.
"I'm humbled to have been a part of this institution. You won't find a finer group of people working tirelessly to serve those most vulnerable in our community. The past several months have highlighted both the critical need and the depth of talent at Harborview," Hayes said.
Sommer Kleweno-Walley has served in a variety of leadership roles at Harborview over the past 20 years with UW Medicine. Most recently she was senior associate administrator for Surgical, Emergent and Integrated Clinical Services.
Harborview Medical Center is a comprehensive healthcare facility dedicated to providing specialized care for a broad spectrum of patients from throughout the Pacific Northwest, including the most vulnerable residents of King County.
As Washington state's only designated Level I adult and pediatric trauma and burn center, Harborview serves as the regional trauma and burn referral center for Alaska, Montana, and Idaho. It is the disaster-preparedness and disaster-control hospital for Seattle and King County.
Harborview Medical Center is owned by King County, governed by a county-appointed board of trustees, and managed under contract by the University of Washington. The medical center plans and coordinates with Public Health - Seattle & King County, the Washington State Department of Health, other agencies, community providers, and area hospitals to provide programs and services.