Calling all canines for national Dog Aging Project
Across the country, some 10,000 dogs of all backgrounds, and their owners, will be recruited for a major study of what makes for a long, healthy dog's life
Media Contact:
UW Medicine: Leila Gray, 206.685.0381, leilag@uw.edu
Texas A & M: Jennifer Gauntt, 979.862.4216, jgauntt@cvm.tamu.edu
---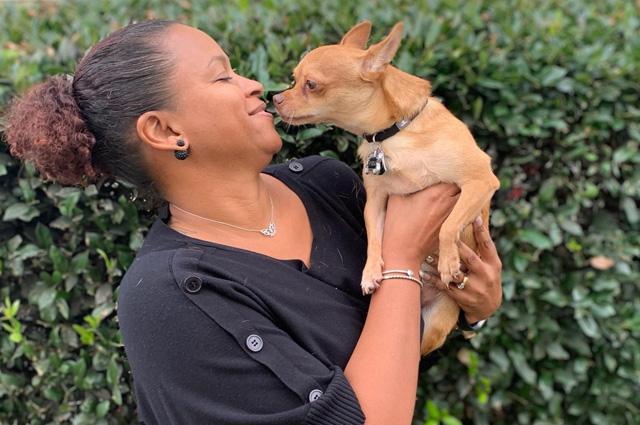 BROADCAST AND WEB MEDIA RESOURCES:
Downloads:
Everyone who loves a dog wants the animal, whether pet or work companion, to enjoy as many years as possible. Learning the whys behind the length and strength of dogs' lifespans has become the impetus for the largest research data-gathering program of its kind, the Dog Aging Project.
The initiative is jointly operated by the University of Washington School of Medicine and the Texas A&M University College of Veterinary Medicine & Biomedical Sciences. It will create a national community of dogs, owners, veterinarians, researchers, and volunteers, all working together to advance knowledge about how genes, habits, and the environment influence dog aging.
Although the project has been in its preliminary stages for a while, its full-throttle launch will be announced Nov. 14 at the annual Gerontological Society of America meeting in Austin, Texas. After that date, owners can nominate their canine as a candidate on the Dog Aging Project website.
Nomination involves creating a secure user portal and providing comprehensive health and lifestyle information about the dog through questionnaires and the sharing of veterinary medical records.
Dogs of every age, from puppy to senior; all sizes, from miniature to huge; male and female; neutered or not; and living in all types of locations are invited to be nominated. Healthy dogs and those with chronic illness will be considered.
"All owners who complete the nomination process will become Dog Aging Project citizen scientists and their dogs will become members of the Dog Aging Project 'pack.' Their information will allow us to begin carrying out important research on aging in dogs," said one of the project's trio of directors, biology of aging expert Daniel Promislow, professor of pathology at the University of Washington School of Medicine and a UW professor of biology.
Also leading the multi-institutional project are veterinarian Dr. Kate Creevy, associate professor of veterinary internal medicine at the Texas A&M University College of Veterinary Medicine & Biomedical Sciences, and longevity and healthspan researcher Matt Kaeberlein, a professor of pathology at the University of Washington School of Medicine. More than 40 other researchers from a variety of fields and institutions will join them in this endeavor.
"Aging is the major cause of the most common diseases, like cancer and heart problems. Dogs age more rapidly than people do and get many of our same diseases of aging, including cognitive decline," said Kaeberlein. "They also share our living environment and have a diverse genetic makeup. This project will contribute broadly to knowledge about aging in dogs and in people."
Over the 10-year project, scientists will gather information on the 10,000 enrolled dogs in a collaborative, open-data platform. This means that, like the Framingham Heart Study and the All of Us research program, the massive amount of data can be analyzed by scientists around the world in a variety of ways. For this study, the largest of its kind ever undertaken, the dogs will be followed throughout their lifetimes.
"We are excited to work with companion dogs in this research program. As a veterinarian, it is important to me that our work benefits dogs directly. But our work with dogs has the added value of shedding light on the human aging experience as well," Creevy said.
The researchers emphasized that their goal is not merely to increase life expectancy; their target is not lifespan, but healthspan, which refers to the period of life spent free from disease. Improved quality of life in advanced age is a goal many people have for their dogs and for themselves.
The Dog Aging Project will have four key endeavors:
1. New metrics of canine aging: The research team will develop tests to measure each dog's changes in physical function as it gets older. There are such tests in older human adults, like moving from seated to standing, grip devices, or age-specific normal ranges on blood chemistry values. For dogs, however, aside from owner observations, there are few standardized assessments.
2. Genetics of aging: Genome sequencing data from all 10,000 dogs will be integrated with health measurements and behavioral traits in comprehensive genome-wide association studies.
3. Systems biology of aging: Scientists will look for molecular predictors of disease, decline or longevity.
4. Medication intervention study: About 500 middle-aged dogs will be part of a trial to assess the effects of rapamycin on cognition, heart function, healthspan, and lifespan.
The project is supported by a federal grant from the National Institute on Aging at the National Institute of Health (UI19AG057337) and private donations.
The participating institutions are:
Core Research Leads
Purdue University
Princeton University
Texas A&M University
Arizona State University
Cornell University
University of Massachusetts Medical School
Broad Institute of MIT and Harvard
University of Washington College of Arts & Sciences
University of Washington School of Medicine
University of Washington School of Public Health
Fred Hutchinson Cancer Research Center
Seattle Children's Hospital
Veterinary Schools
Texas A&M College of Veterinary Medicine
University of Georgia College of Veterinary Medicine
North Carolina State College of Veterinary Medicine
Iowa State University College of Veterinary Medicine
Colorado State University College of Veterinary Medicine and Biomedical Sciences
Oregon State University Carlson College of Veterinary Medicine
Washington State University College of Veterinary Medicine