Ground broken in Spokane for med school partnership
Construction starts on hub building for the UW School of Medicine-Gonzaga University Health Partnership.
Rendering courtesy CollinsWoerman
Ground was broken this week for a new hub for medical and health education, research and innovation to be anchored by the University of Washington School of Medicine-Gonzaga University Health Partnership.
The new 90,000 square-foot building, located at 840 E. Spokane Falls Blvd., will become home to the UW School of Medicine in Spokane and Gonzaga's Department of Human Physiology. It will serve undergraduates in nursing and health sciences upon its completion in summer 2022. 
The four-story building will feature classrooms, an anatomy suite, research labs and administrative offices. These will be utilized by 120 first- and second-year medical students as well as faculty, staff and more than 500 undergrads from GU health sciences programs. The UW MEDEX Northwest physician-assistant program will train 30-34 students in an adjacent building. 
"This new building means more than a new place to call home; it means access to new technology to improve our learning, creating a collaborative space in which teamwork is paramount, but most importantly, it means commitment to educating generations of healthcare professionals to be compassionate, confident and successful," said Ali Zander, a 2017 Gonzaga graduate and second-year medical student in Spokane.
"The resources and facilities represented within this building will expand our capabilities and deepen our collaboration," said Thayne McCulloh, Gonzaga University president. "It will also open doors to new and exciting research partnerships. We are grateful to Dean Allen and McKinstry's Emerald Initiative for stepping up to partner with all of us and to make possible this extraordinary and important contribution to the growing medical, health education and research infrastructure here in Spokane."
Located adjacent to McKinstry's SIERR Building, the new facility is designed to connect programs and people moving between the two buildings, said Dean Allen, CEO of McKinstry and the Emerald Initiative, the company leading design, development, construction and management.  With a combined 145,000 square feet of space, Allen's vision is to create a hub for health education and health innovation by attracting private-sector medical and health research to join the universities in the two buildings. The universities have signed long-term leases to occupy a combined nearly 60,000 square feet of space, and according to Allen, additional space is available for lease by public- and private-sector tenants.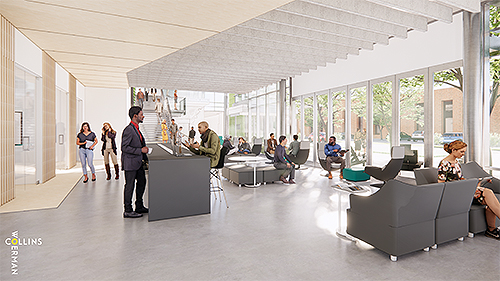 "As part of our public mission, the University of Washington is committed to serving all of Washington's people and communities. We are excited to celebrate this milestone in our partnership with Gonzaga University to educate the physicians, physician assistants and health professionals who will provide critically needed care to Spokane and eastern Washington communities," said UW President Ana Mari Cauce. 
Virkamal Dhaliwal, Medical Student Association President, UW graduate and second-year medical school student, added: "The addition of this new building is a gift, allowing future students to develop their skills, improve their technique, and maximize their education. On this momentous occasion, we look forward to the continued contribution of our institutions in furthering their goals of educating and empowering the next generation of physicians, researchers, and educators."
A new facility was part of the plan when the Health Partnership was formed in 2016 between the two institutions to expand and enhance medical education to serve the growing need for more high-quality health care providers.
"The UW School of Medicine has been teaching medical students throughout eastern Washington and Spokane for nearly 50 years," said Paul Ramsey, MD, CEO, UW Medicine, Dean, UW School of Medicine. "In this exciting and new world-class teaching facility students from medicine and nursing will come together for interdisciplinary training to help build the health care workforce for Spokane, eastern Washington and the region. I am grateful to our partners, Gonzaga University and McKinstry, for helping to make this superb teaching facility a reality."
UW-GU Health Partnership
The University of Washington School of Medicine and Gonzaga University formed a first-of-its-kind public-private partnership in 2016 to advance the health of communities throughout eastern Washington through medical education and research. With a legacy of graduating innovative, community-focused students, the partners leverage their strengths and serve as part of a regional, community-based medical education program, WWAMI (Washington [Seattle & Spokane], Wyoming, Alaska, Montana and Idaho). 
For details, contact Kim Blakeley at UW Medicine: 206.550.6564, krb13@uw.edu