U.S. News ranks UW Medical Center as best hospital in state
UW Medicine's rehabilitation medicine and cancer-care services are among the nation's top 10; diabetes, urology also earn high rankings.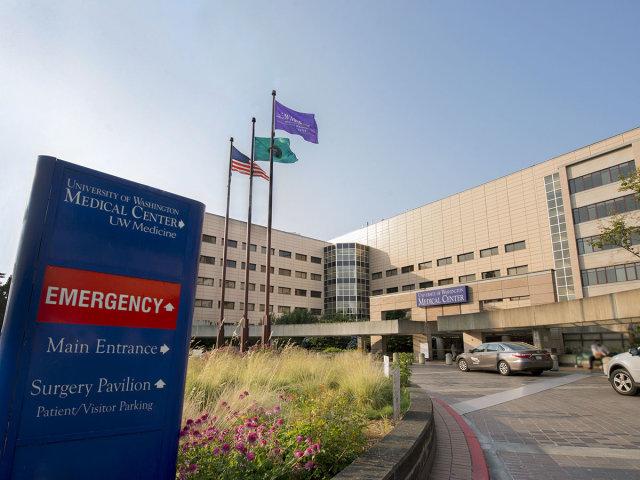 University of Washington Medical Center, part of the UW Medicine health system, today earned U.S. News & World Report's No. 1 hospital ranking in Washington state and in the Seattle metropolitan area. It is the seventh consecutive year that UW Medical Center has achieved both distinctions.
University of Washington Medical Center also received top-20 national rankings in three specialties. It is ranked No. 5 in rehabilitation medicine, No. 7 in cancer care, and No. 12 in diabetes and endocrinology. The rehabilitation medicine program is run jointly with UW Medicine's Harborview Medical Center. UW Medical Center cancer services are provided through Seattle Cancer Care Alliance, which is under the ownership and shared governance of UW Medicine, Seattle Children's and Fred Hutch.

Harborview Medical Center ranked No. 3 in a five-way tie in the Seattle area and ranked No. 4 in a six-way tie in Washington.
"We are honored that UW Medical Center has once again been named the top hospital for our city and state," said Dr. Paul G. Ramsey, CEO of UW Medicine. "As a public institution, UW Medicine strives to excel in its commitment to serve the people of our region, to be a national and global leader in improving healthcare, and to accelerate treatment advances. I'm proud of the nurses, faculty physicians and teams, and others who exemplify dedication to the well-being of everyone in our care and to meeting each patient's individual healthcare needs."
Nationally, several of UW Medical Center's other specialties ranked in the top 50, including: geriatrics (22), orthopedics (29), ear, nose and throat (tied at 37), nephrology (41), pulmonology (44), and gynecology (tied at 47). UW Medical Center was also ranked as "high performing" in cardiology and heart surgery, neurology and neurosurgery, gastroenterology and GI surgery, urology and procedures including aortic valve surgery, heart bypass surgery, heart failure care, colon cancer surgery and lung cancer surgery.
Harborview Medical Center was nationally ranked in urology (32) and high performing in pulmonary services and orthopedics. Harborview also was ranked high-performing in abdominal aortic aneurysm repair. Valley Medical Center was ranked as high performing in hip and knee replacements.
The U.S. News Best Hospitals methodologies in most areas of care are based largely or entirely on objective measures such as risk-adjusted survival and readmission rates, volume, patient experience, patient safety and quality of nursing, among other care-related indicators.
The annual Best Hospitals rankings, now in their 29th year, are designed to assist patients and their doctors in making informed decisions about where to receive care for challenging health conditions or for common elective procedures.
For the 2018-19 rankings, U.S. News evaluated more than 4,500 medical centers nationwide in 25 specialties, procedures and conditions. In the 16 specialty areas, 158 hospitals were ranked in at least one specialty. In rankings by state and metro area, U.S. News recognized hospitals as high performing across multiple areas of care.
UW Medicine has approximately 28,000 employees and an annual budget of more than $5 billion. In addition to UW Medical Center and Harborview Medical Center, also part of UW Medicine, are the UW School of Medicine, UW Neighborhood Clinics, Valley Medical Center, Northwest Hospital & Medical Center, Airlift Northwest and the UW Physicians practice group, the largest physician practice plan in the region. UW Medicine shares in the ownership and governance of the Seattle Cancer Care Alliance with Fred Hutchinson Cancer Research Center and Seattle Children's, and also shares in ownership of Children's University Medical Group with Seattle Children's.

For more information, visit uwmedicine.org.