Human genetics pioneer, Dr. Arno G. Motulsky, 94, remembered
After fleeing Nazi Germany as a teenager, Motulsky went on to become an international authority on how heredity influences health and disease.
Media Contact: Leila Gray, 206.685.0381

---
Dr. Arno G. Motulsky, a global pioneer in human genetics, died Jan. 17 in Seattle at the age of 94. Through his research, writing and mentoring, he helped create and define the field of medical genetics. He is also known as the father of pharmacogenomics, the study of how drug action and metabolism differ among people due to genetic variability.
Dr. Motulsky was the founding head of medical genetics at the University of Washington School of Medicine, a position he accepted in 1953. Over his career he made many vital contributions to research, patient care and education in human genetics. He was most noted for his work on blood diseases, the inheritability of lipid disorders, the role of genetic variation in disease, and genetic reasons why people differ in their responses to medications and environmental substances.
Dr. Motulsky was born near Koenigsberg, Germany, to Jewish parents. When the Nazi campaign escalated, his father was forced to escape to Cuba. At age 16, the young Motulsky with his mother and siblings gained passage on the ship MS St Louis. Headed for Cuba with 900 other refugees, they tried to join their father, but were denied entry. The ship was also turned away by the United States and Canada. With the prospect of the ship returning to Nazi Germany, four European countries granted the passengers' entry. Many sadly succumbed to the subsequent Nazi invasions.
The Motulsky family went to Belgium. After the German invasion of Belgium, where he had been attending high school, Motulsky was arrested as an enemy because of his German nationality. He was eventually sent to an internment camp in Vichy France. Despite the harsh conditions, professors and teachers interned at the camp instructed him informally. Motulsky pleaded for a visa renewal. Days before his 18th birthday, he left France in June of 1941. From Lisbon, he sailed to America. Two years later, he was overjoyed to learn that his mother, brother and sister were in Switzerland, unharmed. A few years later, the family was reunited in Chicago.
Dr. Motulsky met his future wife Gretel Stern in 1943 in the night classes they both attended at a YMCA college. She was also from Germany.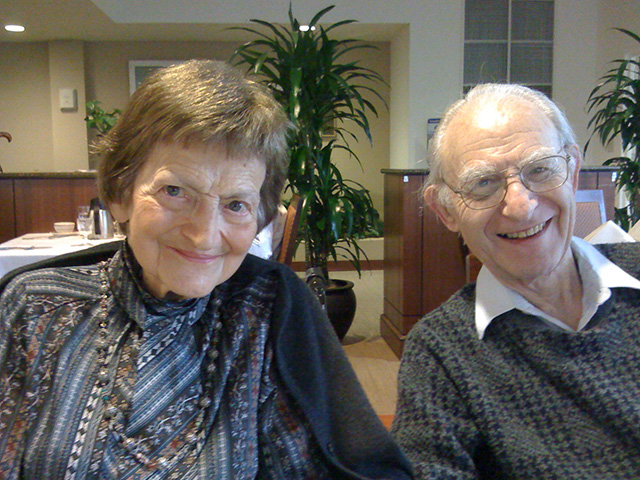 He became a U.S. citizen and joined the military. The army sent him to Yale University to finish his premedical courses. "When I walked into the Sterling Library," he later wrote," I looked up and around and thought that I had gone to heaven!"
He earned his M.D. degree in 1947 at the University of Illinois, Chicago. He studied blood diseases under Dr. Karl Singer at Michael Reese Hospital in Chicago during his residency, and then went to Walter Reed Hospital.
In 1953, Dr. Motulsky accepted a position in internal medicine at the University of Washington School of Medicine. Dr. Motulsky was asked to create a Division of Medical Genetics, after teaching what he called "bootleg" courses to medical students on the subject.
In the 1960's he collaborated with fellow medical geneticist George Stamatoyannopoulos on the genetics of G6PD deficiency as well as on population genetics of blood groups.
When Joseph Goldstein arrived to train at the UW in 1970, Dr. Motulsky suggested that he study lipid levels in people. They looked at the relatives of people who suffered heart disease from hardening of the arteries. Along with other scientists, they proposed that some families had an inherited tendency towards high levels of harmful blood fats. In 1985 Dr. Motulsky proudly watched Dr. Goldstein accept the Nobel Prize in Physiology or Medicine with Dr. Michael Brown "for their discoveries concerning the regulation of cholesterol metabolism."
Dr. Motulsky's professional interests included ecogenetics (the variable reactions to environmental factors based on inherited traits), multifactorial diseases, the mechanisms of iron-overload disorders, the regulation of immunity, genetic linkage, bioethics (including the ethics of abortion for genetic anomalies), the genetics of hypertension and alcoholism, genetic variation in color vision (with the late Samir Deeb) and pesticide metabolism (with Clement Furlong). In his final publication, co-written with Mary-Claire King, a UW professor of genome sciences known for discoveries in breast cancer genetics, he summarized his life and career highlights.
Motulsky's past students described him as humble, approachable, and ready to listen attentively. He trained several generations of medical geneticists and clinicians, and supported the roles of genetic counselors. Dr. Motulsky's textbook, Human Genetics and Approaches, was initially co-authored with the late Friedrich Vogel and first released in 1979. It has been translated into Italian, Japanese, Chinese, and Russian. He was also the co-editor of The Genetic Basis of Common Diseases. He was an author and editor of the book, Genetic Diseases Among Ashkenazi Jews.
Dr. Motulsky was a leader in national and international venues in science policy and advocacy. He explained to non-scientists the implications of pending policy decisions. He served on Presidential Commissions, World Health Organization expert advisory panels, National Research Council Committees, and many committees for the National Academy of Sciences

and the National Academy of Medicine, including the President's Commission on Bioethics; committees on nutrition, genetic testing, and gene therapy; on the Nuclear Regulatory Commission Science Council for Atomic Bomb Survivor Studies in Japan; and on scientific advisory boards of the Howard Hughes and Markey Foundations.
His many national and international awards included the induction into the American Society for Clinical Investigation, National Academy of Medicine, National Academy of Arts and Sciences, and American Philosophical Society; Fellow, American Association for the Advancement of Science; Alexander von Humboldt Award; Lifetime Achievement Award, American College of Medical Genetics; the William Allen Memorial Award, Excellence in Education Award, and Victor A. McKusick Leadership Awards of the American Society of Human Genetics.
"Dr. Motulsky remained an active and productive presence at the University of Washington into his 90s," said Dr. Gail Jarvik, professor of medicine and head of the UW Division of Medical Genetics. "He was always willing to offer sage advice and always current with the scientific literature. Fittingly, on his last day at the University, he attended the seminar of a former trainee, and asked an insightful question."
She added, "His unmatched legacy extends into every area of modern human and medical genetics. His broad influence and leadership style have included demonstrations of his genius and commitment. He was an outstanding teacher, mentor, role model, and respected leader, in addition to a brilliant scientist." On a personal note, she said, "I'm proud to call myself his trainee. Arno's mentorship had a profound influence on my career."
Dr. Motulsky's wife, Gretel, died in 2009. He is survived by his children, Judy Walker and her partner Dan Bonow, Harvey Motulsky and his wife Lisa Norton, and Arlene Audergon and her husband Jean-Claude Audergon, 6 grandchildren and 2 great-grandchildren.
Plans for memorial services are pending.