Home testing for coronavirus detection in the community
Community sampling to spot potentially serious or previously unseen respiratory viruses might help in mitigating present and future pandemics
Media Contact: Leila Gray, 206.475.9809, leilag@uw.edu
Susan Gregg, 206.390.3226, sghanson@uw.edu

---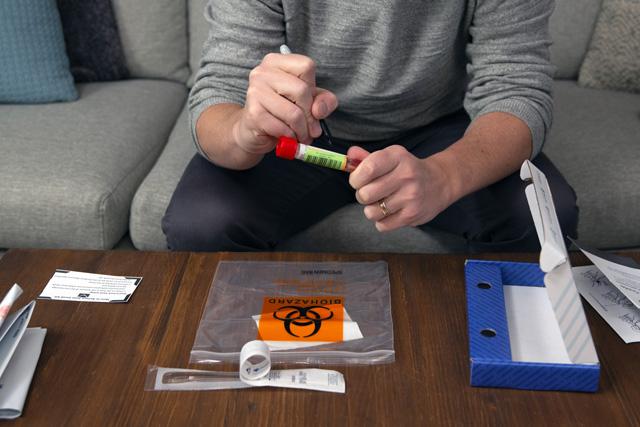 Widespread community sampling of people experiencing respiratory illnesses may become essential to early detection and control of future pandemics. This is one of the implications of findings made during the Seattle Flu Study.
"Traditional approaches to respiratory viral surveillance may not identify novel pathogens in time to implement crucial public health interventions," the researchers wrote in a letter published May 1 in the New England Journal of Medicine. The lead study author is Dr. Helen Chu, assistant professor of medicine, Division of Allergy and Infectious Diseases at the University of Washington School of Medicine in Seattle. The senior author is Trevor Bedford of the Fred Hutchinson Cancer Research Center. His research combines virology, epidemiology and evolution with computational biology and statistics.
Their paper is titled, "Early Detection of COVID-19 Using a City-wide Pandemic Surveillance Platform."
The report published today is based on work that their team conducted over the past year as part of the Seattle Flu Study, an effort to track strains of influenza and other respiratory viruses. The researchers tapped into this existing surveillance platform to see if home testing can help in the community detection of the new coronavirus, SARS-CoV-2, which causes COVID-19. Participants received a kit, swabbed their nasal passages and sent the specimen in for virology lab testing.
This strategy enabled the researchers to find early cases on the coronavirus in the Seattle area in February and the first evidence of community transmission in the United States. Previously, all the cases in the United States at that time were assumed to be imported from other countries.
They learned that most of the early cases didn't cause severe symptoms. Those people did not seek medical care. Most of them stayed home. Their home test results were the only evidence that they had contracted the new coronavirus.
"What the study shows is that there probably are and will continue to be cases in the community that go undetected," Chu said in an interview.
To get a handle on the present pandemic, a testing strategy that casts a wide net is necessary to capture milder cases, as well as infections without any symptoms, according to Chu. Traditionally, pandemic surveillance has relied on people coming into a hospital or clinic for testing when they feel sick.
That approach omits the possibility of people in the community who may be carrying the virus, but who are not necessarily feeling sick or heading to their doctors, clinics or hospitals for care. Home testing is an approach that may be scaled up to reduce visits for in-person testing, minimizing exposure risk and the use of personal protective equipment, such as masks and gloves.
Chu said that the United States and other countries need to move toward rolling out large scale diagnostic testing in the community, including home testing, to be able to reopen and to restart the economy.
Innovative strategies, she said, will assist public health officials, policy makers and medical systems in mapping where hot spots are emerging, and to take rapid steps to slow down transmission.
Among several other lead researchers contributing to today's report were Dr. Janet Englund of Seattle Children's and Dr. Lea Starita and Dr. Jay Shendure, both of the Department of Genome Sciences at the University of Washington School of Medicine and the Brotman Baty Institute for Precision Medicine.
The Seattle Flu Study is funded by Gates Ventures (the private office of Bill Gates) and receives technical guidance from the Bill & Melinda Gates Foundation and the Centers for Disease Control and Prevention.
Please see Q & A on Innovation in Detecting COVID-19.