Brain stimulator makes West Coast debut in Seattle
Updated device also records brain signals so physicians can better manage patients' conditions such as Parkinson's, essential tremor and epilepsy.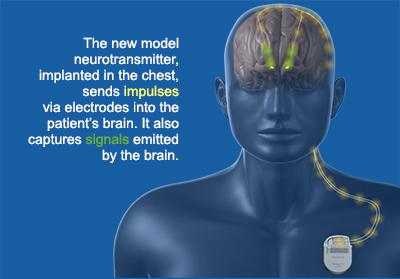 Deep brain stimulation, in which electrodes implanted in a person's brain carry electrical pulses from a pacemaker-like unit implanted in the chest, has been used for more than two decades. These systems help improve motor function and decrease the need for medication which reduces the side-effects associated with these medications.
The stimulators allow doctors and patients to adjust the energy being sent to the brain to improve patients' movement and reduce tremor, said Dr. Andrew Ko, a UW Medicine neurosurgeon. While this treatment is safe and effective, the interaction between the device and the brain has been one-way. Major adjustments made to the stimulator must be done by a doctor in clinic, based on trial and error.
The manufacturer Medtronic recently received the U.S. Food and Drug Administration's approval to distribute a new neurostimulator that can simultaneously stimulate and record signals from the brain.
"It gives us more information about the effects of stimulation on the patient's brain. This data can help us refine the treatment," Ko said.
In Seattle, the device saw its first deployment July 8, when Ko implanted one in a man who had to be hospitalized because of his inability to move or talk/. The battery for his previous DBS system had run down, thereby leaving him without therapy for his Parkinson's disease. After the replacement, he is back at his previous level of function. Medtronic confirmed it was the first such implant on the West Coast.
The new implantable hardware and updated tablet software allows the system to record a snapshot of brain activity every 10 minutes. Patients also can activate a recording of brain activity anytime they aren't feeling well.
"In the past, we'd adjust the energy stimulus during a clinic visit and then ask the patient to perform a task to confirm that the adjustment helps," Ko explained. "This new system lets us see what's happening to the patient when they're not sitting in clinic and gives more data over a longer time. The important thing is that we use this to see what needs to be changed, based directly on what the brain is doing."
The device's storage will allow physicians to download collected data when a patient comes for a checkup. This avoids the need for patients to try to remember or keep a written diary of symptom flare-ups or times when medication seems to have an adverse effect.
Ultimately, Ko said, the ideal would be to have the device run an algorithm that could make adjustments in real time based on what the patient's brain is doing, in other words, a closed feedback loop.
Patients who have Parkinson's and essential tremor compose most users of DBS. The therapy is also available for treatment of dystonia, another movement disorder, obsessive-compulsive disorder, and was recently approved for treatment of epilepsy that does not respond to other medical measures.
-- Brian Donohue, 206.543.7856, bdonohue@uw.edu
MEDIA RESOURCES:
Downloads:
Web-embeddable video with Dr. Andrew Ko
Soundbites audio only with Dr. Andrew Ko
Other: