UW has big role in Seattle's safe-storage firearms measure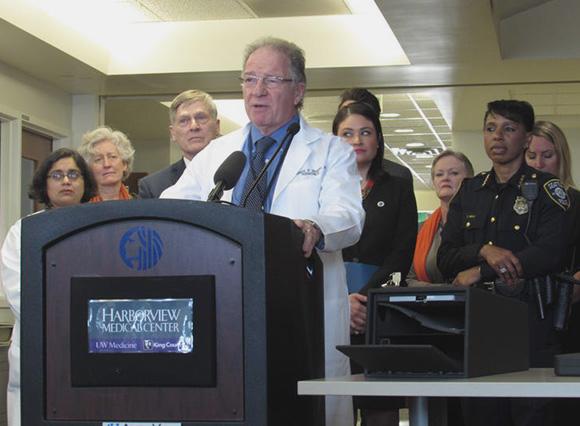 The Seattle City Council passed legislation Monday requiring gun owners to lock up their guns or face fines up to $10,000 – a policy significantly informed by University of Washington researchers. It will become law 180 days after Mayor Jenny Durkan signs the legislation.
UW Medicine's Harborview Injury Prevention and Research Center (HIPRC) and the University of Washington School of Public Health were key to getting council members behind this bill.
"I think it signifies that the city is doing whatever it can to reduce the toll of gun violence," said Dr. Fred Rivara, a professor of pediatrics at the UW School of Medicine and nationally known gun-violence investigator at HIPRC.
Rivara spoke at the March 21 news conference where Seattle Mayor Jenny Durkan announced that she and council member M. Lorena Gonzalez would propose legislation to require safe storage of firearms within city limits.
"Part of my role here at Harborview (Medical Center) is to care for these victims of firearm injuries," Rivara said. "In both young children and adolescents, these incidents are nearly always the result of having a gun that's not been safely secured and stored at home. These injuries are often life-changing, if not life-ending."
Rivara demonstrated that opening a locked gun box takes just a few seconds to press an electronic key code atop the box. "Locking it up does not obviate that ability to use (the gun) for self-protection," he said.
According to statistics on the HIPRC website, U.S. children are 14 times as likely to die from guns as children in other developed countries, and 1.7 million children live in a home with an unlocked gun.
In 2005, HIPRC researchers reported in JAMA that safe storage of guns reduced accidental injuries and suicides among youth by 73 percent. The reduction was greater still, 78 percent, if both guns and ammunition were locked up. In May, researchers at the UW School of Public Health published research showing that only 37 percent of Washington state's gun owners safely store their firearms.
Seattle became one of the first cities in the nation to conduct basic research on gun safety. The City Council funded HIPRC research that found that individuals hospitalized for a firearm injury were 30 times more likely to be re-hospitalized for another firearm injury than people admitted to the hospital for reasons not involving a firearm.
Councilwoman Gonzales said the city would seek to levy fines against gun owners whose firearms are stolen or otherwise obtained because they were not secured, and then used in crimes or suicides. Gun owners whose firearms are stolen but not reported stolen could face fines if the weapon later causes harm, she said in March.