Studying why Black men face grim prostate cancer outcomes
In the Pacific Northwest, Black males are 60% more likely to die of prostate cancer than are men of other ethnicities.
The statistics for Black men facing prostate cancer have been worrisome for decades. Nationally it is the most common non-skin cancer among males, affecting roughly 1 in 7 over their lifetimes. For Black men, though, the U.S. incidence is about 60% higher than in men of other ethnicities, and the mortality rate is twice that of other men. For Black men in the Pacific Northwest, the news is equally troubling: They are 60% more likely to die of prostate cancer than men of other races and ethnicities.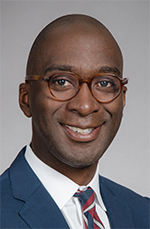 Studies have shown that equitable provision of treatment markedly reduces the disparity in prostate-cancer deaths between Blacks and other men. But it is unclear what roles biology, environment, and other factors play in the higher rate of newly diagnosed prostate cancers among Blacks.
Dr. Yaw Nyame, a urologic oncologist with the University of Washington School of Medicine, recently received startup funds to pursue research focused on eradicating prostate cancer disparities. With his $500,000 CARES Award, Nyame will lead a team that includes a biostatistician, health economist, and population scientists.
"Addressing racial disparities is complicated because of the close relationship between the social, health, economic, and even biologic factors that may influence any individual person's health outcomes. These are further impacted by structural and systemic factors that create the dire population statistics that we see," Nyame said. "So how do we build healthcare and policy solutions that create parity among men with prostate cancer?"
Nyame aims to conduct a series of patient-centered research projects and, in doing so, to increase the inclusion of Black men and other underrepresented populations.
"One of the things which has stood out to me is that there are so many preconceived notions of what individuals want for care," he said. "Sometimes we do a poor job of understanding patient preferences and choices for their clinical care and participation in our research efforts."
Nyame said he'd like to foster conversations with Black men who have prostate cancer to understand barriers they've experienced to screening and treatment.
"At the end of the day, we need to be patient-focused and work with the community to develop sustainable solutions to improve access and utilization of prostate cancer screening and treatments," he said. "We also need to allow the patients to help us develop the scientific evidence that will serve as the basis for changes in guidelines and policies around prostate cancer care.
"I think using this approach to assess and address prostate cancer disparities allows our work in the Northwest to serve as the blueprint for improving care for Black men across the country," he said.