UW Medicine joins new NIH effort on rare genetic conditions
National Institute of Health's Mendelian Genomics Research Consortium unites five leading genomic sciences centers.
Media Contact:
UW Medicine: Leila Gray, 206.475.9809
NIH/NHGRI: Prabarna Ganguly, prabarna.ganguly@nih.gov, 845.853.9910
---
UW Medicine in Seattle will be part of a new National Institutes of Health effort to deploy innovative methods and approaches to find the genetic causes of unsolved Mendelian conditions. These conditions are suspected of being the result of changes or mutation in genes or other genomic differences – that have not yet been discovered.
More than 400 million people worldwide have been diagnosed with one of about 7,000 Mendelian conditions. Just a few examples of Mendelian conditions in which the genetic basis has already been determined are cystic fibrosis, sickle cell anemia, hemophilia, muscular dystrophy, color blindness, and Tay Sachs disease. But there are many more disorders for which answering questions for patients, families, and their clinicians still requires discovery of the underlying gene.
According to today's National Human Genome Research Institute announcement, the goal of the new consortium, composed of five institutions, will be to increase the number of Mendelian conditions whose genetic cause is known.
"Millions of people are born with rare diseases with unknown causes. Rare diseases are impactful in terms of the overall health of an individual," said Deborah A. Nickerson, professor of genome sciences at the University of Washington School of Medicine, a researcher at the Brotman Baty Institute for Precision Medicine in Seattle and a principal investigator on the new grant. "Currently, we can identify a mutation in only about 50% of persons with a rare disease. The new Mendelian Genomic Research Centers are going to develop new approaches to increase our ability to identify the causes of rare conditions."
In addition to Nickerson, the other co-principal investigators on the new grant are Evan E. Eichler, professor of genome sciences, and Dr. Michael J. Bamshad, professor of pediatrics, both at the UW School of Medicine. Bamshad also practices and conducts research on congenital disorders at Seattle Children's Hospital.
The multi-institutional teams in the national effort will collaborate and share data. This would allow the broader research community to join forces to tackle challenging diseases whose genetic causes are eluding identification, the NHGRI noted.
At least 3,000 Mendelian conditions are awaiting discovery of their genetic basis. Hundreds more new conditions of this nature are reported each year.
"The idea, Nickerson said, "is to look for the missing causes and genome changes that lead to these rare conditions. This has a lot to do with our ability to interpret the impact of rare variation in the genome. It's from rare, impactful differences in our genomes that provide insights into the parts of the genome that are important for structure and function in humans."
In earlier work with the NHGRI and in partnership with 685 institutions in 55 countries, the UW Medicine Mendelian genomics research team already has helped genetically test more than 15,000 samples from 5,675 families. The collaboration found genes for 1,379 conditions, including 915 novel finding. These results have provided immediate, substantial benefits for diagnostics and clinical care.
The UW Medicine Mendelian genomics research team has developed many advanced sequencing and data interpretation methods to examine the whole and parts of the human genome. These technologies will be vital to the continuing study of Mendelian conditions.
The Department of Genome Sciences at the UW School of Medicine was also among the leaders in examining only the coding parts of the human genome, called the exome, to find genetic characteristics behind some Mendelian conditions, such as Kabuki syndrome and Miller syndrome. The genes underlying these syndromes had been impossible to determine through previous approaches.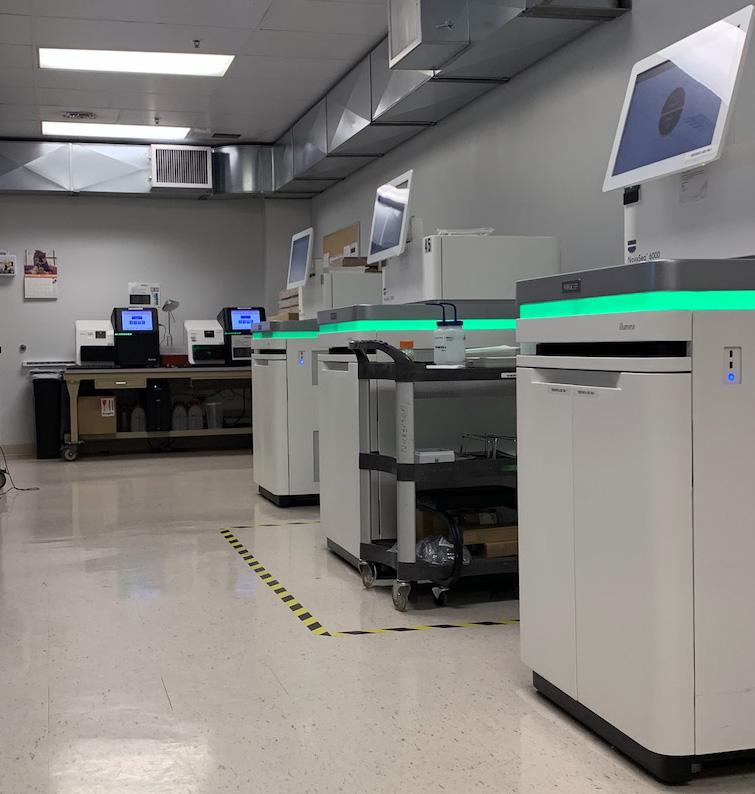 The scientists also have made headway in understanding the role of parts of the genome that don't code for proteins. While causative variants are most likely to lie in protein-coding regions, non-coding areas might also hold clues to the origins of some Mendelian conditions. Some of these non-coding regions of the genome have regulatory or other functions that manage how, for example, certain areas of DNA are turned on or off, how much and when proteins are produced, or when parts of the DNA are opened or closed for reading of the code by RNA.
"We are especially excited to apply new long-read sequencing approaches to solve Mendelian cases of disease where traditional methods, such as whole-exome sequencing, have failed to identify the underlying genetic cause," said Eichler. "Technologies are advancing to the point that all forms of genetic variation will soon be discovered. Helping families who have not yet received a genetic diagnosis with these new technologies remains a high priority."
The University of Washington Mendelian genomics research team has also established ways for families to assist with research by exchanging data with clinicians and genome researchers through a website called MyGene2.org, as well as through a public data browser in which their personal identifiers are removed.
"The team here at the UW is spectacular," Nickerson said. "We were a part of the highly successful Centers for Mendelian Genomics that just ended, and now we will be joining a new team to help form one of the Mendelian Genomic Research Centers."
Under this latest national consortium, the UW Medicine Mendelian genomics team will use next-generation sequencing, new paradigms, and advanced sequencing technologies to help efficiently uncover novel genes for as many Mendelian conditions as possiblCree.
They also hope to design ways to improve the interpretation of genetic variants that become apparent during this research, and to validate their function. They will concentrate on families with unexplained Mendelian conditions, on classic Mendelian conditions that are considered a high priority by clinical geneticists and whose genetic basis has not yet yielded to scientific efforts, and on cases that remain recalcitrant even after prior genome and exome sequencing.
The researchers also plan to work on new strategies for finding variants that are difficult to detect, or that have unknown functional effects or unusual patterns of inheritance in families. They will be checking, for instance, for structural variants in the genome, repeat expansions, and cryptic splice variants. They will conduct follow-up studies to characterize the architecture of variants in non-coding genome regions that have a potential link to disease, and to ascertain their pathogenic role.
Throughout all this, the scientists will look for efficient, cost-effective ways to solve the genetics of Mendelian conditions, and to move findings into clinical diagnostics. They also are preparing to openly disseminate data to assist other genomic researchers, medical geneticists, and families being seen for such conditions.
The other institutions in the national consortium are The Broad Institute in Massachusetts, Stanford University School of Medicine in California, Baylor College of Medicine in Texas, and Children's National Hospital in Washington, D.C. The Department of Biostatistics' Genetics Analysis Center at the UW School of Public Health will serve as the data coordinating center.
"This project funded by the National Human Genome Research Institute, part of the National Institutes of Health, elevates research on Mendelian conditions to a new level of excellence," said Bamshad. "We will be working in close collaboration with the four other research institutions and clinicians across the country to share samples, data, and strategies to maximize discovery of new genes for Mendelian conditions."
The first year of funding for the anticipated five-year grant to the Department of Genome Sciences at the UW School of Medicine will be about $2.7 million. The NIH grant number is 1UO1HGO11744-01.