UW Medical Center named state's top hospital for 11th year
U.S. News recognizes UW Medicine's hospitals as "high-performing" across an array of common adult procedures and conditions.
Media Contact: Brian Donohue - 206-543-7856, bdonohue@uw.edu

---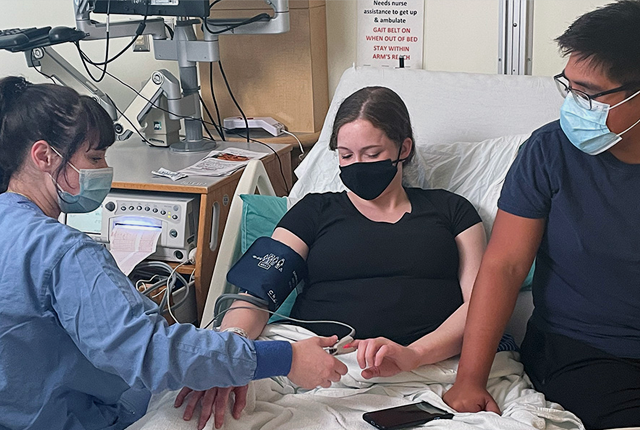 The University of Washington Medical Center is the No. 1 hospital in Washington state and in the Seattle metropolitan area, according to U.S. News & World Report.
It is the 11th consecutive year that the hospital, one of three in the UW Medicine healthcare system, has earned both distinctions in the publication's annual "Best Hospitals" rankings.
UW Medical Center also received top-50 national rankings in seven adult specialties:
rehabilitation medicine (No. 5)
diabetes and endocrinology (No. 7)
ear, nose, and throat (No. 24)
urology (No. 26)
cancer with the Fred Hutchinson Cancer Center, formerly Seattle Cancer Care Alliance (No. 27)
obstetrics and gynecology (No. 35)
orthopedics (No. 47)
"Our U.S. News rankings highlight the outstanding work of UW Medicine's 39,000-plus faculty, staff, students and trainees in support of our mission to improve the health of the public," said Dr. Tim Dellit, interim CEO of UW Medicine and interim dean of the UW School of Medicine. "We are dedicated to offering patients high quality care and making important discoveries that lead to new approaches for the diagnosis, treatment and prevention of human disease."
Gastroenterology/gastrointestinal surgery, geriatrics, neurology/neurosurgery, and pulmonology/lung surgery were recognized as UW Medical Center's "high performing" specialty areas. The hospital also was identified as high performing in 16 common adult procedures and conditions: aortic valve surgery, back surgery (spinal fusion), chronic obstructive pulmonary disease (COPD), colon cancer surgery, diabetes, heart attack, heart failure, hip fracture, hip replacement, kidney failure, knee replacement, lung cancer surgery, ovarian cancer surgery, pneumonia, prostate cancer surgery and stroke.
U.S. News ranked Harborview Medical Center No. 22 in the nation for its rehabilitation care. Its orthopedics service was recognized as high performing, as was Harborview's care with four common adult procedures and conditions: abdominal aortic aneurysm repair, COPD, pneumonia and stroke.
Valley Medical Center received high performing recognition with six common adult procedures and conditions: heart attack, heart failure, hip replacement, kidney failure, knee replacement and stroke.
"Congratulations to all of the clinicians and staff at UW Medicine on these prestigious local and national rankings," said Lisa Brandenburg, president of UW Medicine Hospitals & Clinics. "Despite facing many new and difficult challenges since the start of the COVID-19 pandemic, they continue to provide our patients and their families with a range of services to lead healthier lives, from primary and preventive care, in person and by telemedicine, to elective procedures and highly specialized treatments for the most complex medical conditions."
For the 2022-23 rankings and ratings, U.S. News evaluated more than 4,500 medical centers nationwide in 15 specialties and 20 procedures and conditions. In the 15 specialty areas, 164 hospitals ranked in at least one specialty. State and metro area rankings reflect the highest performing hospitals across multiple areas of care.
U.S. News' "Best Hospitals" methodology encompasses an analysis of various data categories, including survival, the volume of high-risk patients, patient experience, nurse staffing and advanced clinical technologies.
The annual rankings are designed to assist patients and their doctors in making informed decisions about where to receive care for challenging health conditions and for common elective procedures.