Tech entrepreneurs pledge $2.5 million to Dog Aging Project
Support will expand research on interventions to increase healthy years of life
Media Contact: Leila Gray, 206.475.9809, leilag@uw.edu

---
The Dog Aging Project, a scientific initiative to help companion dogs and people live longer, healthier lives together, has received a $2.5 million pledge from a consortium of tech entrepreneurs.
The Dog Aging Project brings together a community of dogs, owners, veterinarians, researchers, and volunteers to carry out the largest canine health study in the world. The donation will expand this research into longevity science.
The donors include Brian Armstrong, Coinbase founder and CEO; Peter Attia, physician; Juan Benet, Protocol Labs founder and CEO; Fred Erhsam, co-founder of Paradigm and Coinbase; Adam Fisher of Bessemer Venture Partners; author Tim Ferriss and the Saisei Foundation; Jed McCaleb, Stellar co-founder and CTO and founder of the Astera Institute; and food author Darya Rose and internet entrepreneur Kevin Rose.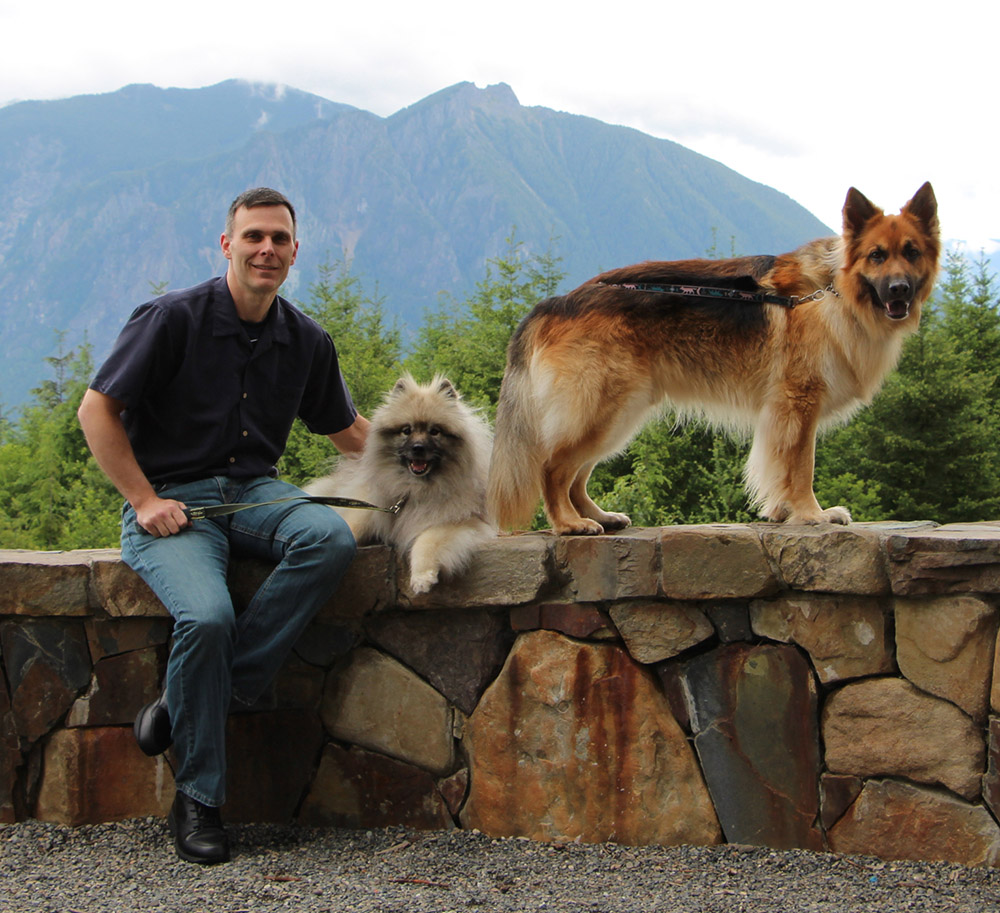 The Dog Aging Project has two fundamental goals: first, to understand how genes, lifestyle, and environment influence aging; and second, to intervene to increase healthspan, the period of life spent free from disease. Discoveries made by the Dog Aging Project could be translatable to people.
More than 32,000 companion dogs and their owners are already part of the Dog Aging Project. All the dogs live and play at home with their families. Most of these dogs participate in the observational Longitudinal Study of Aging. Each dog owner completes extensive surveys about the health and life experience of their dog through a secure research portal. This information is paired with comprehensive environmental, genetic, and biochemical data to yield insights about aging.
In addition, the Dog Aging Project is conducting a double-blind, placebo controlled, veterinary clinical trial of the medicine rapamycin, which at low doses has been shown to extend lifespan in laboratory animals. The trial is called TRIAD, an acronym for Test of Rapamycin in Aging Dogs.
The $2.5 million in new funding provided by the consortium of donors will go directly to scientific research. This support will allow the Dog Aging Project to expand the TRIAD Trial to include more study locations and to increase the number of dogs enrolled in TRIAD.
"Targeting biological aging is 21st century medicine, with the potential to greatly enhance healthy longevity for both people and our pets," said Dr. Matt Kaeberlein, co-director of the Dog Aging Project. "TRIAD will provide the first clinical evaluation of an intervention that may increase lifespan and healthspan from this approach. This generous donation will greatly accelerate our research and bring us closer to this goal." Kaeberlein is a professor of pathology and laboratory medicine at the University of Washington School of Medicine.
All dogs in the United States, excluding territories, are welcome to join the Dog Aging Project observational study. Participating dogs can be young or old, mixed breed or purebred, those in good health and those with chronic health conditions. People can enroll their dog at www.dogagingproject.org. To be eligible for TRIAD, owners must complete all surveys, upload veterinary medical records, and be willing to travel to one of the participating clinical sites where their dog will be screened for disqualifying health conditions.
Led by scientists at the University of Washington and Texas A&M University, the research team includes more than 70 researchers and veterinarians from over 20 academic institutions around the country. This is an open science project. The data collected by the Dog Aging Project will be made available to researchers around the world via Terra, a cloud computing platform hosted by the Broad Institute of MIT and Harvard. In addition, biological samples will be banked at the Dog Aging Project Biobank housed at the Cornell University Veterinary Biobank.
News release written by Amber Keyser, Dog Aging Project.
News media resources:
Dog Aging Project Executive Summary