Self-swabs for COVID-19 comparable to in-clinic detection
Agreement is high between unsupervised, self-collected swabs and those administered by clinicians to diagnose SARS-CoV-2.
Media Contact: Leila Gray, 206.475.9809, leilag@uw.edu

---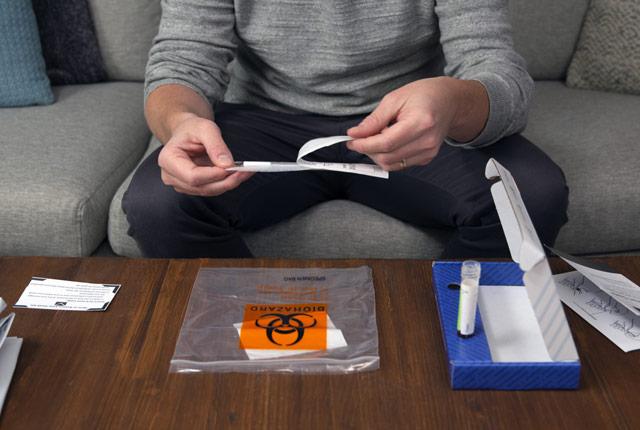 A small-scale study suggests that, among people with high viral loads, self-collected swabs of the midnasal area are comparable to swabs administered by healthcare workers in their ability to detect the virus that causes COVID-19.
The findings are reported in a research letter published today in JAMA Network Open. The lead author is Dr. Denise J. McCulloch, an infectious disease fellow of medicine at the University of Washington School of Medicine. Dr. Helen Y. Chu, a UW professor of medicine, Division of Allergy and Infectious Diseases, was senior author.
There are advantages to at-home self-swabs that are sent to a lab for SARS-CoV-2 testing: Patients avoid going out when they don't feel well, which reduces potential contagion and saves healthcare workers' protective equipment and supplies. It also gives public health officials a means to track the pandemic in communities among people who don't seek care at hospitals, clinics, and test sites.
The study involved 185 participants who provided samples via clinician-collected nasopharyngeal swab, self-collected midnasal swab, or both. (With midnasal swabs, people insert the swab about 1 inch into the nose. The clinically administered nasopharyngeal swab goes much farther back, depending on the patient's anatomy, toward the nasal pathway opening to the throat.)
Among the participants, 41 (22.2%) tested positive for SARS-CoV-2. The home midnasal-swab collection was comparable to clinician-collected nasopharyngeal samples for detecting the novel coronavirus in symptomatic patients.
Compared with swabs collected in clinic – the gold-standard diagnostic approach – the diagnostic sensitivity of the home swabs was 80%; that is, the home swabs correctly identified 80% of the positive cases detected by in-clinic swabs. Among people infected with "meaningful" viral loads, the home swabs did even better, detecting 95% of those cases, said Chu.
"It matters less if swabs don't detect the cases with very little virus, because they're not likely to be very symptomatic and less likely to infect others," Chu added.
The home swabs' specificity was 97.9% – lower than that described in previous studies done in clinic. Specificity is the ability to correctly identify those who do not have the disease, or the true negatives. Chu attributed the home swabs' lower specificity to participants with low viral loads and to the fact that most participants self-administered the home swabs a day after they had been tested by a clinician, so their viral loads were lower.
Programs providing home self-collected swab kits may improve testing accessibility at a time when more diagnostics are urgently needed to contain the rising spread of the pandemic. As several states reopen businesses, schools, and recreation sites, the researchers believe that expansion of COVID-19 testing is critical to managing the pandemic.
Before such efforts are expanded, however, researchers must ensure that home self-swabs are comparable to clinician-swabs, and limit the percentage of false-negative and false-positive readings.
The researchers outlined some of the study's limitations. Shipping without temperature controls could have contributed to sample degradation. Previous studies, however, showed that samples could remain stable at ambient temperature for up to nine days. Also, many of the study participants were healthcare professionals, and their swabbing ability may have differed from that of the general public. Finally, using clinician-collection swabs as the standard may have introduced bias.
The researchers proposed that home-based strategies should try to reach individuals in the early stages of illness, when they are more likely to transmit the disease to others and less likely to seek medical care until symptoms worsen.
"Home swab collection," they said, "has the potential to play a pivotal role in increasing testing access across the broader population."
Other researchers on the study were Ashley E. Kim, Naomi C. Wilcox, and Jennifer K. Louge of the Chu lab, Alex L. Greninger of the Division of Virology, Department of Laboratory Medicine and Pathology of the UW School of Medicine, and Janet A. Englund of the Department of Pediatrics, UW School of Medicine and of Seattle Children's Hospital.
The study was supported by Gates Ventures.
Related Q & A
Q. What implications do these findings have for expanding access and availability of COVID-19 testing in King County and other communities across the United States?
A. Unsupervised home self-swab collection presents several advantages when compared with clinician-collected nasopharyngeal swabs:
Allows for greater access to testing outside of the healthcare system.
Reduces demands on limited PPE supplies, clinic staff, and resources.
Allows potentially contagious individuals to get tested at home without traveling to a clinic and exposing themselves (and being exposed) to others in the community.
Simplifies logistics for entire families/groups of individuals sharing a household to get tested.
Offers a safe, comfortable testing alternative for individuals who may wish to avoid the uncomfortable experience of a clinician-administered nasopharyngeal swab.
Q. Some individuals may avoid testing for COVID-19 due to the discomfort of using a nasopharyngeal swab to collect a sample from the nasopharynx. Do midnasal swabs offer an alternative method of sample collection that could encourage more people to get tested?
A. While this study is focused on comparing the sensitivity and specificity of home-collected midnasal swabs relative to clinician-collected nasopharyngeal swabs and does not address the question of user preferences between the two methods, home-collected midnasal swabs do offer a reliable alternative testing method to nasopharyngeal swabs.
Q. Given that the sensitivity and specificity of home-collected midnasal swabs was 80% that of clinician-collected nasopharyngeal swabs, what are some concerns that you have from a diagnostic perspective?
While the overall sensitivity and specificity of home swabs within this study was 80% that of clinician swabs, sensitivity increased to 95% among individuals with higher viral loads (Ct ≤ 32). This finding indicates that a home-based testing strategy should target individuals early in illness (consistent with studies showing that SARS-CoV-2 viral loads are highest at symptom onset), when risk of transmission is highest and care-seeking is less likely. Home-based testing should continue to operate as a complement to clinician-administered testing, not as a replacement.
Q. Would you expect clinician-collected midnasal swabs to have a higher sensitivity and specificity compared with home-collected midnasal swabs?
A. In terms of providing a more standardized process for sample collection, clinician-collected midnasal swabs may capture a sufficient sample more reliably and return fewer false negative relative to home-collection. However, this team has not conducted such a study so cannot speculate on potential results at this time.
Q. Do you think the increased potential for expanding COVID-19 testing, combined with minimizing clinic visits by potentially infected patients and minimizing PPE use, outweighs the decreased sensitivity and specificity of home-collected midnasal swabs, compared with clinician-collected nasopharyngeal swabs?
A. Clinician-administered swabs should continue to serve as the primary testing method for SARS-CoV-2. Home-collection of midnasal swabs offers a safe and scalable testing approach in a pandemic setting that can serve as a complement to clinician-collected nasopharyngeal swabs, especially when targeting individuals early in illness/immediately after symptom onset.
– Q & A written by Ken Anderson, Gates Ventures.