Philanthropists respond to COVID-19 care, research needs
More than $20 million has been raised to help UW Medicine scientists and clinicians work to preserve community members' health.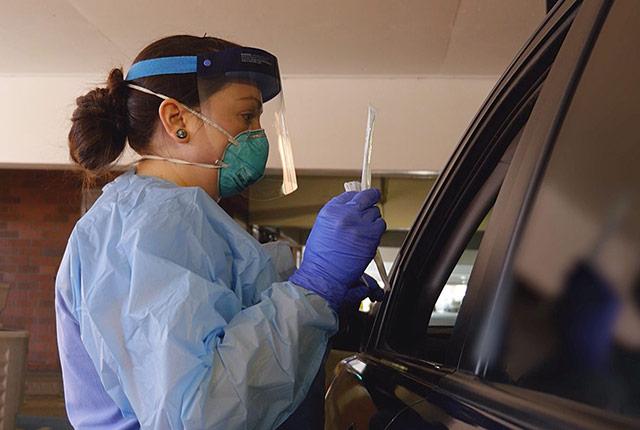 Seattle-area philanthropists are accelerating UW Medicine's COVID-19 response with more than $20 million in contributions towards a $50 million need for the UW Medicine Emergency Response Fund. Early supporters of the fund include Connie and Steve Ballmer, The Paul G. Allen Family Foundation, The Bezos Family, Susan Brotman, The Neukom Family, M. J. Murdock Charitable Trust, Wendy and Eric Schmidt, Christine and Bryan White, Janet and James Sinegal, Washington Research Foundation, Anu and Satya Nadella, and an additional 3,380 community members.
"We are deeply grateful for the generous support and leadership of these caring members of our community who have stepped up in a big way to help us mitigate the impact of COVID-19 in our state," said Dr. Paul Ramsey, CEO of UW Medicine. "While federal and state funding will relieve some of the costs associated with our COVID-19 healthcare response, private philanthropy is also needed to accelerate actions that must be taken now to save lives in the weeks ahead."
UW Medicine estimates it will need a total of $50 million in private philanthropy for its Emergency Response Fund to support these critical priorities:
Increasing COVID-19 testing capacity: Increasing the number of tests and the speed of results is essential to halting community spread of the virus. While UW Medicine has conducted about 70% of all COVID-19 testing in Washington state, its Virology Lab expects to ramp up testing to 5,000 to 6,000 samples by the end of the week and to provide results within six to 24 hours.

"Right now, our community needs philanthropy to help address urgent needs, like expanded testing and protection and care for our most vulnerable, exposed by the COVID-19 crisis," said Connie and Steve Ballmer, co-founders of Ballmer Group. "We are grateful that UW Medicine is working on all fronts to strengthen our community's response and to help save lives."
Testing and care for unsheltered populations: People experiencing homelessness are at a higher risk of contracting and becoming seriously ill from COVID-19 and of seeking emergency room medical care. Urgent efforts are underway to increase testing in homeless shelters, downtown clinics and new community housing sites. In addition, UW Medicine is transforming Harborview Hall, an overnight shelter on First Hill in Seattle, into a quarantine site for homeless patients who are awaiting COVID-19 test results or who are COVID-19 positive.
"During this unprecedented COVID-19 crisis, those experiencing homelessness have less access to testing and healthcare, which is why the community needs to step up," said Jody Allen, co-founder and chair of the Paul G. Allen Family Foundation. "Our grant will help increase UW Medicine's capacity to detect COVID-19 among our local unsheltered population and support the treatment of those infected."
Accelerating COVID-19 research: UW Medicine is home to the Brotman Baty Institute based Seattle Flu Study, which is partnering with Public Health-Seattle & King County and the federal Centers for Disease Control and Prevention in the Seattle Coronavirus Assessment Network to monitor the progression of COVID-19 and to help lead local, national, and international response efforts. UW Medicine is also the administrative base for the Institute for Health Metrics and Evaluation that is providing valuable modelling projections used for guiding the national COVID-19 response. In addition, more than 35 UW scientists are heading teams that are rapidly advancing COVID-19 research in such areas as vaccine development, diagnostics, antiviral drugs, plasma treatments, immune responses and immunity, prevention of heart and lung complications, protection of pregnant mothers and their babies, and infection control.
"Understanding more about the virus is the first step in being able to stop it. UW Medicine has been an early leader in responding to COVID-19 and is well-positioned to continue translating key insights to inform practice in real time. Increased support for UW Medicine's research response can help accelerate important actions needed to end the COVID-19 pandemic," said the Bezos Family.
​Protecting and supporting healthcare workers: Safeguarding the health and well-being of frontline healthcare workers is essential to being able to care for the community during this crisis. Community members and corporations from Tesla to the Girl Scouts, and Grammy award winning artist Lizzo, have contributed funds, equipment, and food. Contributions also support rapid COVID-19 testing for healthcare workers and first responders, temporary housing, wellness programs and mental health support.
Increasing inpatient care capacity to treat COVID-19 Patients: UW Medicine is preparing for an expected surge in patients. It has set up triage tents for evaluating patients with respiratory illness symptoms at Harborview Medical Center, UW Medical Center–Montlake, UW Medical Center–Northwest and Valley Medical Center. In addition, each hospital is modifying interior spaces and purchasing equipment to scale the health system's capacity to treat an increasing number of patients with COVID-19 symptoms while preserving resources to care for patients with other critical injuries or illnesses.
For more information about the UW Medicine Emergency Response Fund visit www.AccelerateMed.org/COVID19-Support. To make an online or in-kind donation or to leave a message of support for UW Medicine's frontline healthcare workers visit www.AccelerateMed.org/Heroes. Learn more about how the University of Washington community is coming together to overcome the COVID-19 pandemic: https://washington.edu/together.