Harborview certified as center for children in foster care
The "center of excellence" designation recognizes the hospital's ability to provide youth with informed and compassionate care.
Media Contact: Susan Gregg - 206.616.6730, sghanson@uw.edu

---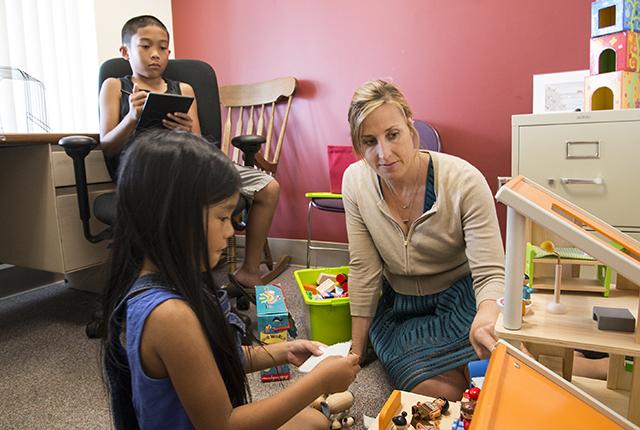 Harborview Medical Center has been designated a Foster Care Center of Excellence by Coordinated Care, the managed care provider for the Apple Health Foster Care program. With this designation, Harborview's Pediatric Clinic is modifying its processes and services to better serve children in the child welfare system.
Centers of Excellence are recognized as multidisciplinary medical centers where youth in the child welfare system can receive coordinated healthcare services. To qualify as a center of excellence, a healthcare provider must meet more than 50 criteria, including annual staff training in trauma-informed care.
"Our staff is committed to serving all children, with a focus on trauma, to provide informed and compassionate care – and we have a long history of doing so with expertise and culturally appropriate care," said Dr. Anisa Ibrahim, medical director of the Pediatric Clinic. "By partnering with Coordinated Care and the Department of Children, Youth, and Families, we're honored to serve as an extension of that noble mission by alleviating trauma, promoting resiliency, and building a community of support."
Harborview's Pediatric Clinic is operated by faculty and staff of the University of Washington School of Medicine. They share the hospital's commitment to serve the region's most marginalized populations with high-quality, innovative, and culturally appropriate care. The clinic has evolved over the last 50 years from focusing on residents of nearby Yesler Terrace to a broader commitment in King County.
As a center of excellence, Harborview will be an entry point for healthcare, providing:
Early and periodic screening, diagnosis and treatment within 30 days of entering care
Behavioral health services
Referrals to specialists
Assistance with securing medical equipment
Prescriptions
Lab tests and x-rays
Centers of excellence also can refer youth to Coordinated Care for additional support, as needed.
"Children who come into our care have often experienced extreme levels of trauma," said Ross Hunter, secretary of Washington state's Department of Children, Youth, and Families. "These kids need medical care that's informed by science and research about the impacts of trauma. Harborview is a community treasure in providing exactly that kind of care."
In 2016, the Washington State Health Care Authority named Coordinated Care as the sole health plan responsible for managing the healthcare of the state's approximately 24,000 youth involved in the child welfare system including foster care, adoption support and alumni of foster care.
"Coordinated Care is proud to recognize Harborview Medical Center for their commitment to a customized trauma-informed approach to serving the needs of children and youth in the child welfare system," said Beth Johnson, president and CEO of Coordinated Care. "In collaboration with Harborview and DCYF, we're excited to see improved quality outcomes and increased connection to services and support for these families."