Black men face hurdles in seeking prostate cancer care
A survey of Black men in the Puget Sound area found that sometimes doctors contributed to roadblocks.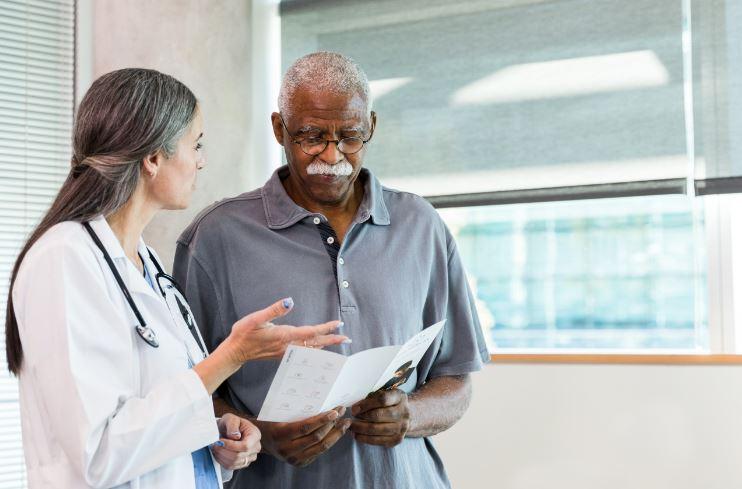 One of the primary factors impeding Black men from receiving effective and prompt prostate cancer screening may lie with physicians, according to preliminary results from an ongoing UW Medicine-led study.
"One thing we heard over and over again is that the relationship with the primary care provider was either a block to getting care, or a key to access," said Jenney Lee, a senior research scientist in the University of Washington School of Medicine Department of Urology. Lee was the lead researcher in compiling the interview results and works closely with the lead investigator, Dr. Yaw Nyame, assistant professor of urology at the UW School of Medicine.
"We heard from one man that he actually requested a PSA test from his provider. The provider dismissed the request, saying that there may be unintended consequences down the road," Lee said.
The doctor didn't want to test, and said that the potential of a false positive result outweighed the benefits or providing the test, Lee said. This patient continued to advocate for himself. Eventually received the test from a different provider. He then received a diagnosis of stage 4 prostate cancer.
While this is one of the more extreme examples the group noted, the narrative of Black men being blocked from medical care is not, Lee said.
Nyame started this project in 2020 with a $500,000 Andy Hill CARE Fund Award. He built a team consisting of biostatisticians, a health economist, scientists with expertise in qualitative research, and trained community researchers and partners. The CARE Fund award also supported the development of the Black and African-descent Collaborative for Prostate cancer ACtion (BACPAC), a group of patients and community members dedicated to improving prostate cancer health equity.
As part of the initial CARE Fund award, Nyame, Lee and the team, including collaborators at the BACPAC, conducted interviews with Black men during the fall of 2021 through the winter of 2022. The team compiled 29 interviews, and presented initial findings the American Association for Cancer Research Cancer Health Disparities meeting in September.
Through the interviews with the men, the group found that there was a lack of information on the benefits and harms of prostate cancer screenings. There was a lack of trusted relationships between primary-care providers and their patients, and finally a lack of understanding of the prostate cancer-related health care disparities that Black men face, she said.
"I think this gives us a window into how men and their providers are thinking about PSA testing," Lee said. "There is conflicting information on the value of PSA testing. Many providers might not be aware that it does have particular value for high-risk populations such as Black men."
The next step after the interviews involves developing a tool kit to increase awareness and address health communications needs of Black men and their providers about the importance of PSA tests and early detection.
Other grants supporting Nyame's work include:
A $500,000 grant awarded in November from the Andy Hill CARE Fund. Nyame and his team plan to design a culturally competent and robust biorepository and longitudinal epidemiologic cohort that will allow for evaluation of structural, social, and biologic factors in prostate cancer development for Black men. A prostate tissue biorepository already exists at the UW, Lee said, but this new pilot study will be looking at ways to encourage Black men to provide some of their cancer tissue to advance knowledge of how environment affects cancer initiation and progression.
A $735,000 research grant awarded in September 2021 from the Department of Defense to expand the group's work on inequities in prostate cancer nationally, specifically focusing on follow up care after prostate removal surgery.
This work, and these studies are important because prostate cancer represents the highest disparity in cancer-related mortality for the Black community, Nyame said.
"Black men have a 120 % higher rate of death compared to other men experiencing prostate cancer in the U.S. They also have a higher risk of developing prostate cancer at a younger age, and they are often diagnosed at a later stage of the disease, and with a more aggressive form of the cancer," Nyame noted.
Written by Barbara Clements, bac60@uw.edu, 253-740-5043